The Paul S. Russell, MD Museum of Medical History and Innovation opened in April 2012. The nearly 8,000-square-foot facility hosts exhibits and programs on medical topics such as:
The evolution of health care
Laboratory and clinical research
Patient and family support
The Main Gallery, located on the first floor, houses nearly 2,000 square feet of exhibits organized around various medical themes.
The Putnam Gallery, located on the third floor, features rotating exhibits, a portrait gallery and space for lectures, presentations, receptions and other special events.
The Rooftop Garden hosts more than 30 kinds of trees, shrubs, grasses, vines and ground covers along with sweeping views of the Beacon Hill neighborhood. It is open year-round.
The Ether Dome at Mass General, the site of the first successful public surgery using ether as an anesthetic, is not housed within the museum. Located in the Bulfinch Building, this surgical amphitheater is open weekdays from 9 am to 5 pm, except during faculty meetings. Call 617-724-9557 for more information.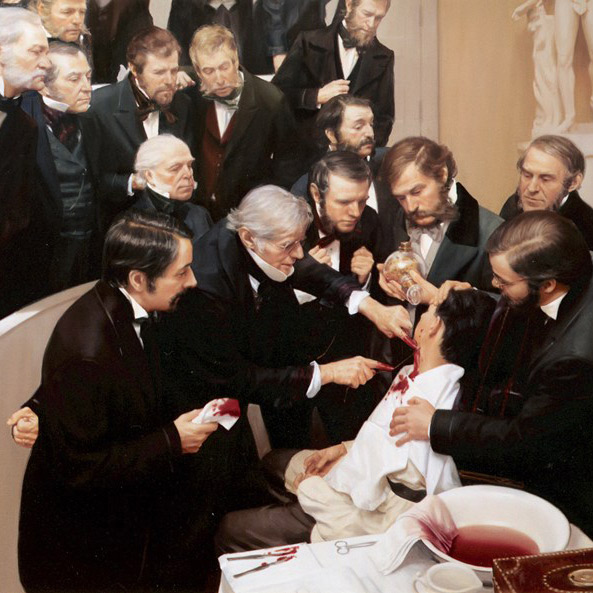 We encourage visitors to take public transportation. The museum is a short walk from the Charles/MGH Station on the MBTA Red Line.
Parking at Mass General garages is limited to patients, their families and visitors. When visiting the museum, you may use on-street metered parking or nearby parking garages. The museum does not offer validated parking.
Our specially trained docents are available to provide tours to all visitors. Large groups of visitors are asked to call 617-724-8009 to schedule their visit so we can plan accordingly.
The museum is fully accessible for people in wheelchairs. Click here to learn more about accessibility at Mass General
Several Mass General cafeterias and cafés are within a short walk of the museum, including the Riverside Café, Coffee South, Eat Street Café and Coffee Central.
Frequently Asked Questions